All is well here in Sahuarita, AZ. We've had another FULL month though somewhat less hectic than the last.
The weather has continued to be warmer and dryer than usual. We haven't had more than a sprinkle of rain in the last month and the temperatures have mostly been in the high 70's which is well over 10 degrees above normal. We have windy days now and then that drive us indoors but otherwise it's been glorious. It was just such a lovely day when I took a walk from our house out the main road through the development. The sycamores in the park around the clubhouse were just finishing dropping the last of their leaves and their white trunks were shining in the sun.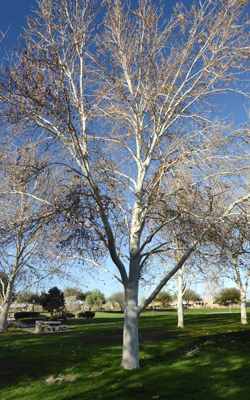 Out at the entrance to Rancho Resort you get a nice view of the Santa Rita Mountains off to the east.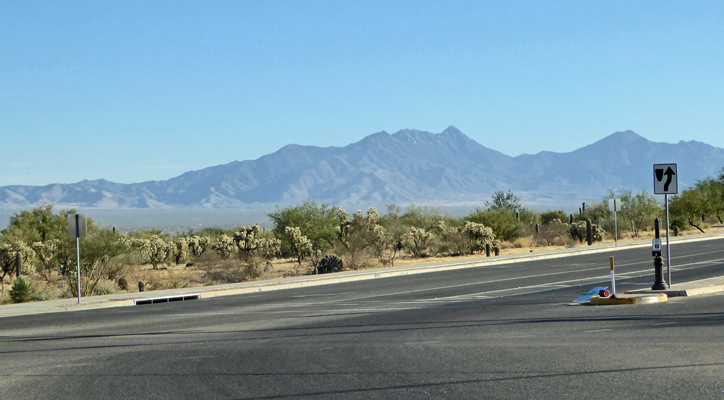 On the way back I took a photo of my favorite sign in the development.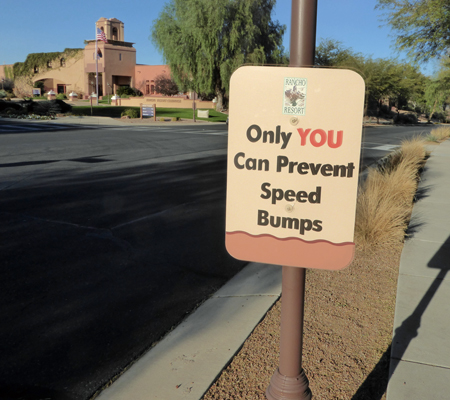 It's worked for many years but they've just announced that this coming summer they will be putting in speed tables (long bumps that aren't so hard on cars) to slow folks down. The speed limit is only 20 MPH and folks tend to drive faster than that.
On Tuesday January 16th, we made the pilgrimage to Ikea (a 2 hour drive north) and bought a new couch, a couple of lamps and some patio furniture for the back yard. We picked up the lamps and the patio furniture in the warehouse on the way out and then after paying for it all we went to the pick up area for the couch. And we waited. And waited. And waited. And watched our number move to the almost ready column and then back to the waiting column. Walter went up to find out what the deal was and discovered that the couch was in an area of the store that they couldn't access with a forklift during store hours. We'd either have to wait until they closed at 9 pm or they could deliver it to us on Saturday for free. This was NOT a hard decision to make. We took the free delivery and made the 2 hour drive home again. Such a deal, not to have to figure out how to get two big boxes into the back of the truck along with the new table and chairs and the strange shaped boxes for the lamps.
They delivered the couch on Saturday afternoon and in less than an hour we had it assembled and Walter was testing it out.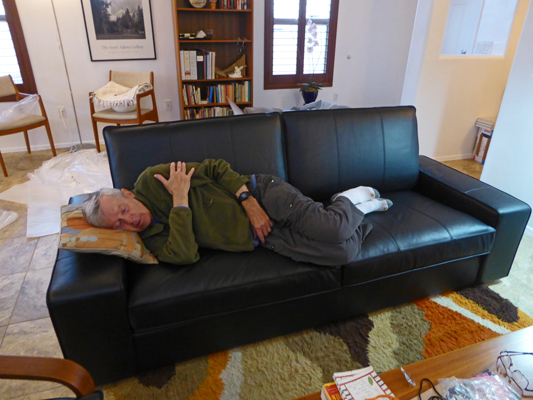 On Monday the 22nd, we went over to visit Genevieve in the storage lot and discovered that having the new solar panel set up inside the trailer just wasn't working well enough (dirty tinted windows and shadows don't help things). So we snaked the cord outside and set it up along the fence line where we could get as much sun as possible.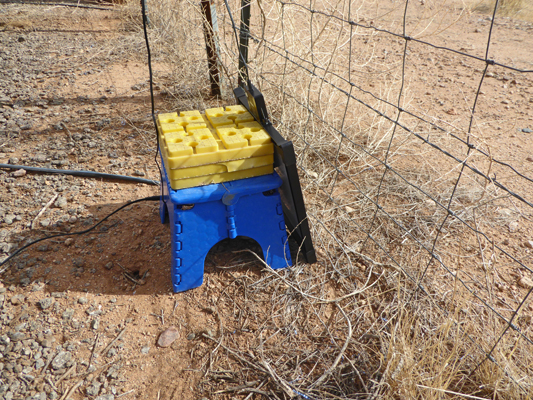 That kept things charged okay (though we were still losing a bit of ground) for another 3 weeks. This past Saturday we decided we really needed a bigger panel. Our batteries are nearly 4 years old and it seems they need a bit more charging than this panel can offer. So Walter has ordered a bigger panel that should come later this week. Meanwhile, he surrendered and went and ran the generator for an hour and half to charge them on Monday Feb 12th just so they wouldn't get drawn down too far.
All month we've been working our way through repair projects to get the house into tip top shape. When we moved in, our front door had several smears of wood putty across it. And the molding around the door had had holes filled but not painted.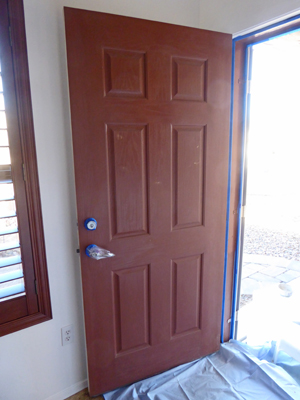 The rules here require you to keep the exterior paint exactly the same as it was when they built it. It took a few weeks but I finally got the information on our paint scheme and was able to buy front door paint to match at our local Ace Hardware. I spent several hours preparing the door and molding (miles of masking tape) and then about an hour painting the door and the trim. And the result was near perfect.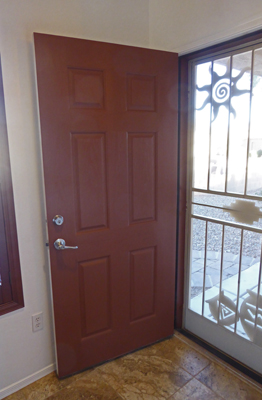 It's so great to stand outside and not have those smudges around the doorframe too.
The waterfall and pond have been another challenge. Every time the wind blows the pond accumulates a large quantity of debris (tiny mesquite leaves and large oleander leaves mostly). Even taking the time to hand skim it every day wasn't working since the crud on the bottom of the pond was clearly getting worse. So I did some research on pond skimmers and found this nifty little skimmer that I could just plug in and she cleans anything that falls into the pond right away.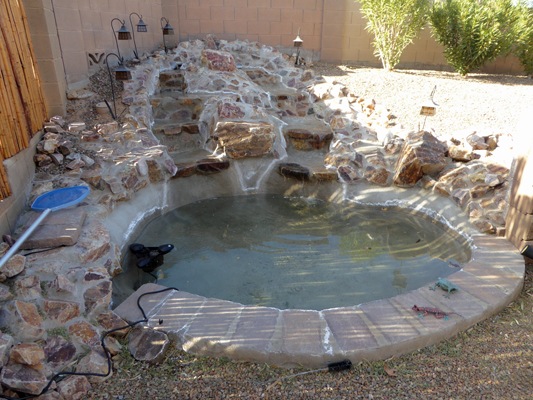 Each time I go out to turn her on (the waterfall runs at the same time) I've spent a little time getting stuff off the bottom of the pool too. Between the two of us the pond has gotten much better.
She's a cute little machine that pumps out air bubbles to aerate the pond as she works. She comes from Germany and her name is Maria (or so it seems). She has a little pump which sucks the leaves up over the edge on the left side and then they get caught in a filter that you clean out every now and then.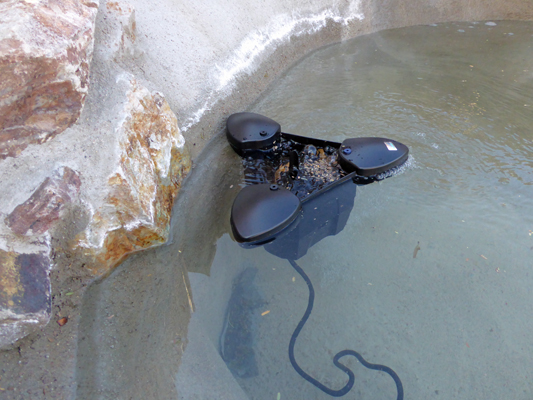 January 25th we had a stellar sunset. It didn't last long but it was a beauty.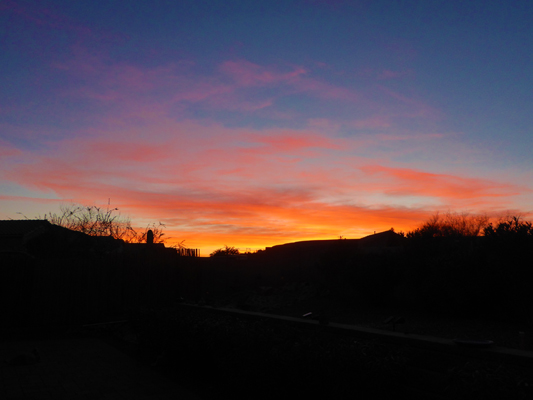 We have two hummingbirds that come to our feeder regularly. One comes from across the street and zooms in from the right when we look out the window. And the other comes out of the wash and comes in from the left. This is the one from across the street who always drinks from this right hand flower.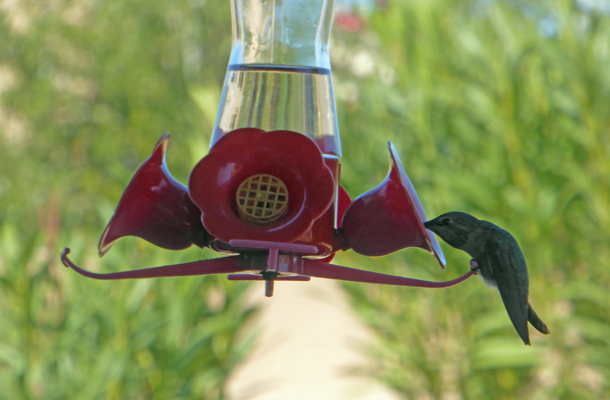 They are such amazing little birds.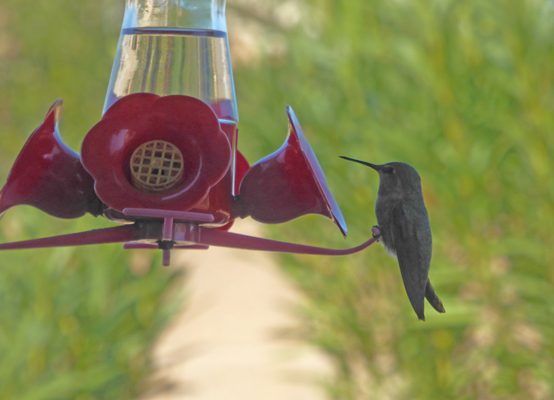 Saturday January 27th, it was cooler than it had been but still sunny and beautiful. We decided we'd drive over to Rancho Sahuarita (on the east side of I-19) and take a walk around Lake Sahuarita which is an artificial lake that they built next to the clubhouse area in the development. They have lots of public parking and folks come to walk, ride their bikes, skate and fish. We started on the south end of the lake.

And walked up the west side where the houses are large and upscale. There are lots of nice benches to rest on and the water is a lovely color too. At the top of the lake you get a view of not only the lake but the Santa Rita Mountains off in the distance.

There weren't a lot of birds but I did spy this Say's Phoebe on a wall as we walked back down the east side of the lake.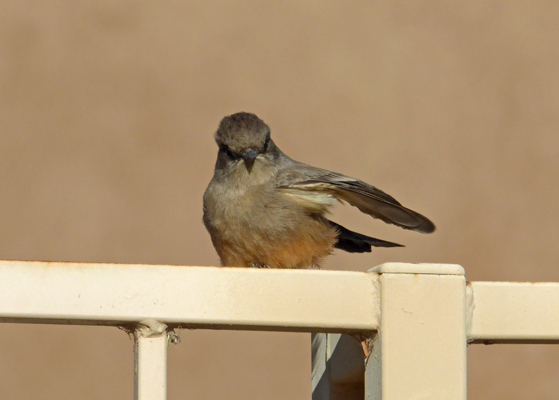 The houses on the east side are smaller and the yards aren't as upscale—in fact they were pretty small and ordinary. But there are little pocket parks along the shore with benches and places for folks to fish.
At the bottom of the lake we found these giant desert tortoises.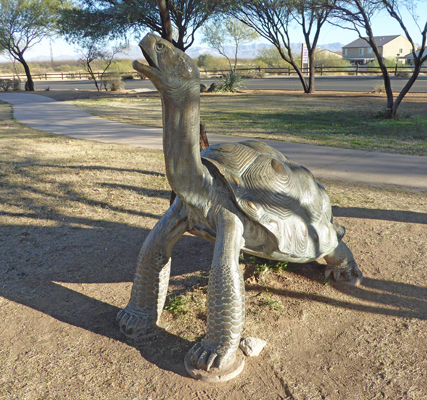 They're dedicated to the children of Sahuarita and clearly they get climbed on a lot—though there are caution signs on them about them being really HOT in the summer. The desert tortoise is native to the area though they are actually only 15" long and weigh about 15 pounds. Just look at that mouth.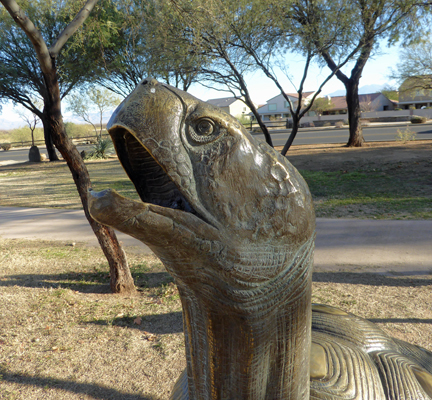 Walter has a habit of braving the mouths of monsters (like those on totem poles in Alaska for instance) and he didn't disappoint here.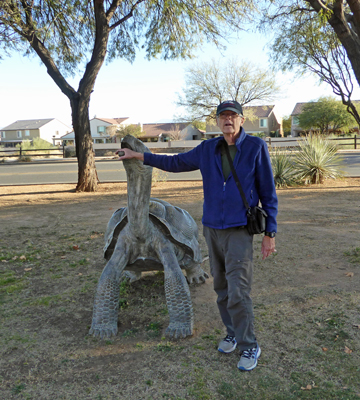 It's only about a mile around the lake and it made a nice stroll for us.
On January 31st we had clear skies. Our friend, Deborah, was visiting from Massachusetts and she was awake early (having just arrived and still running on Eastern Time) and so I got up at 6:30 to see the Super Blue Blood Moon with her. At 6:40 it was still pretty dark but I managed to stay still enough to get a shot of the full eclipse though it's a little fuzzy because I wasn't using a tripod.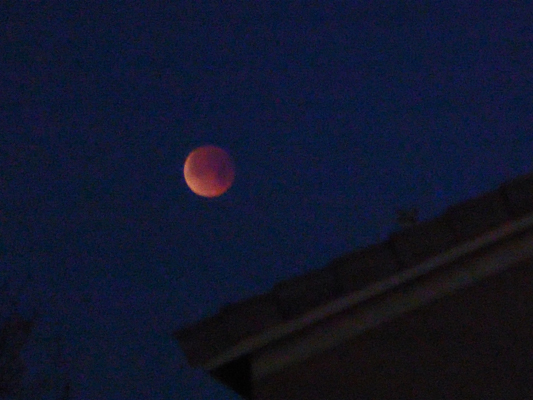 By 6:44 the sky had lightened considerably (and the moon was getting ready to set) and I got a better shot.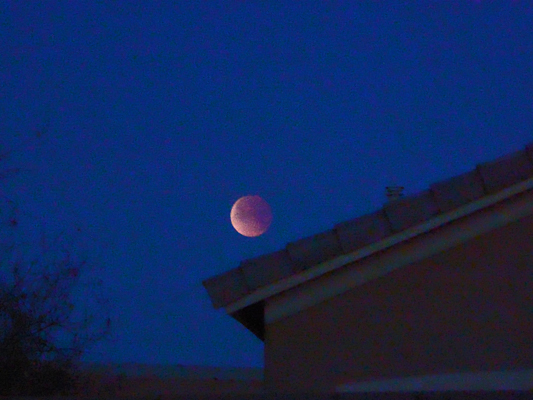 Moonset came quickly and it wasn't long at all before we had to walk up the hill a bit to see the moon and then it was gone.
Deborah went off hiking down near Nogales with friends for a few days and we had another lovely sunset on February 2nd. The strange thing about this one was that all the color was out the front door to the southeast and none off to the west.

On Saturday February 3rd, Deborah was back with us and was out enjoying the sun while I puttered on the back patio when I noticed that the pair of tall fuzzy cacti over by the concrete brick wall had grown red buds (and lots of little bumps) that hadn't been there earlier.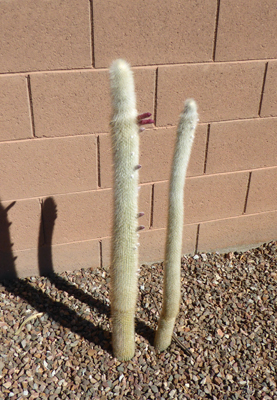 Here's a close up of the larger of the two plants.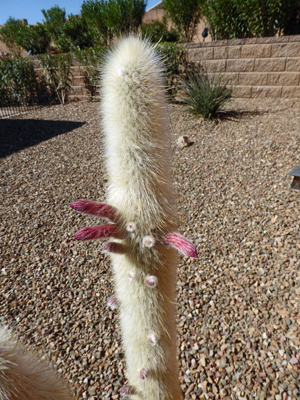 I spent an hour or so on-line trying to identify these guys and came up with the fact that they are Silver Torch Cacti. They are native to Peru and Bolivia and grow above 9,000 feet, so they are super hardy and so can withstand our occasional hard freezes. They usually don't bloom until they are at least 18" tall and 10 to 15 years old. The taller of ours is nearly 36" tall so I guess it's been blooming for a number of years.
The buds got bigger and bigger and 4 days later they began to 'open' which in this case means that a pistil extended out the end like it was sticking out it's tongue.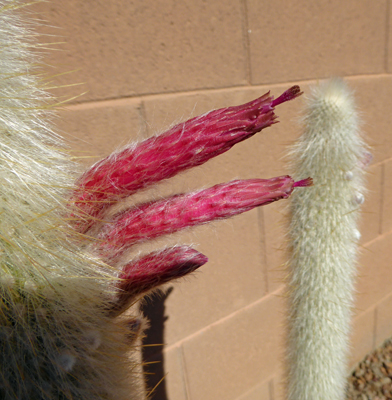 The bumps on both of them kept turning into buds too.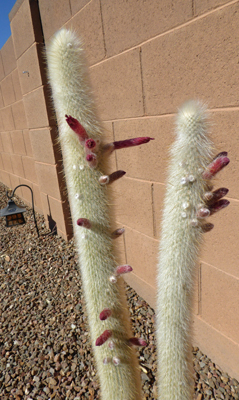 Meanwhile the bigger one looked more and more like Frankenstein's Monster chasing one of the townspeople.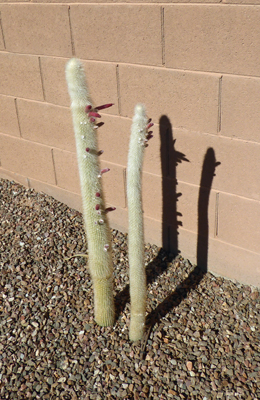 Two days later I caught one of the flowers covered with pollen (look carefully at the one on the left—it's got orange stuff on it).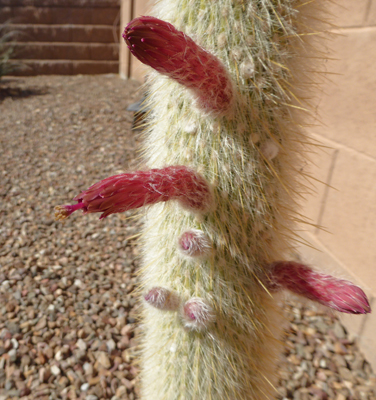 And the buds on the smaller one were really getting BIG.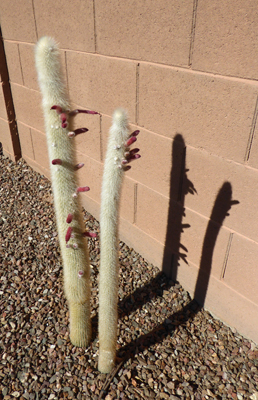 We've been playing at playing Pickle Ball for a few weeks now and have actually gotten to the point where we can rally a bit now and then. It's taken some getting used to because the 'racket' is an over-sized ping pong paddle (but smaller than a tennis racket) which you use to hit a bright yellow whiffle ball. And the game is played on an undersized tennis court. Walter played tennis years ago and was pretty good at it. His body has had to learn to play with this undersized racket. The first time we played I could see the tennis player reach over and expect to hit the ball and miss it by just a little bit because the racket was too small. And we both have had to learn that a whiffle ball DOES NOT bounce like a tennis ball—in fact they lose most of their momentum when they hit the ground. We're having fun and it's good exercise plus we walk to the courts and then take a long route home to get a bit more of a workout.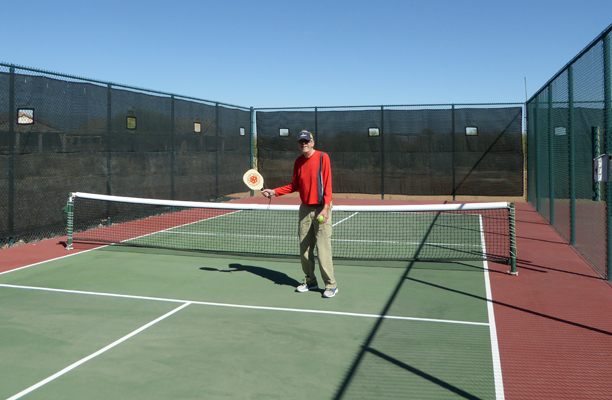 We rarely see any wildlife on our walk but this past week I saw a lizard and managed to get a photo of him.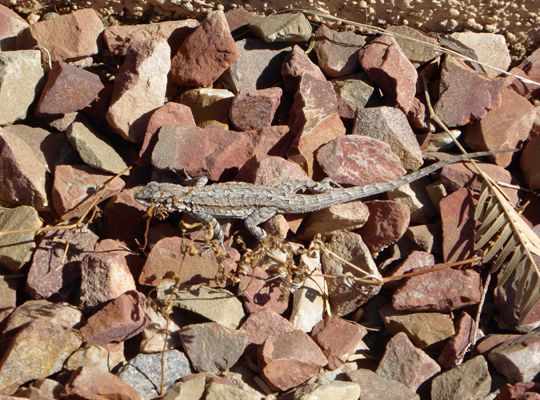 Saturday February 10th, it was windy and a few clouds came in late in the day. The wind stirred up just enough dust so that combined with the clouds we had a stellar gold medal 360 degree three stage sunset (after spending part of the afternoon watching the Olympics).
Stage one to the south out our front door.

Stage one to the northwest from our back patio.

And completing the 360 degree wonder of stage one with a view to the east from our side yard.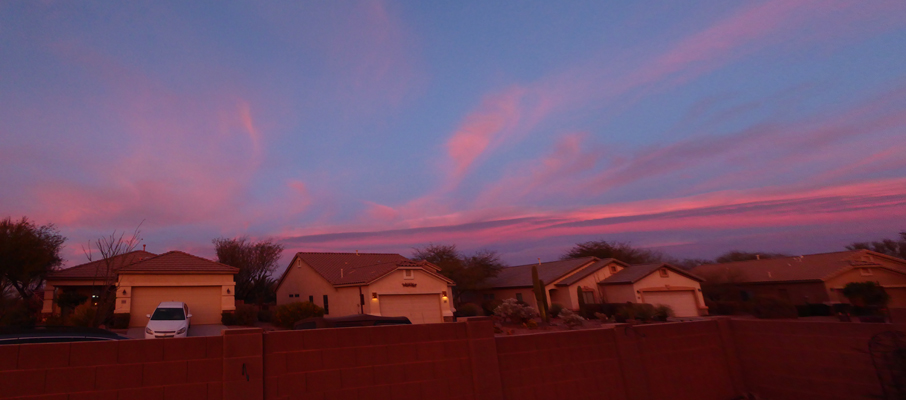 Stage 2 meant that there was no color to the east or south but things deepened nicely to the west.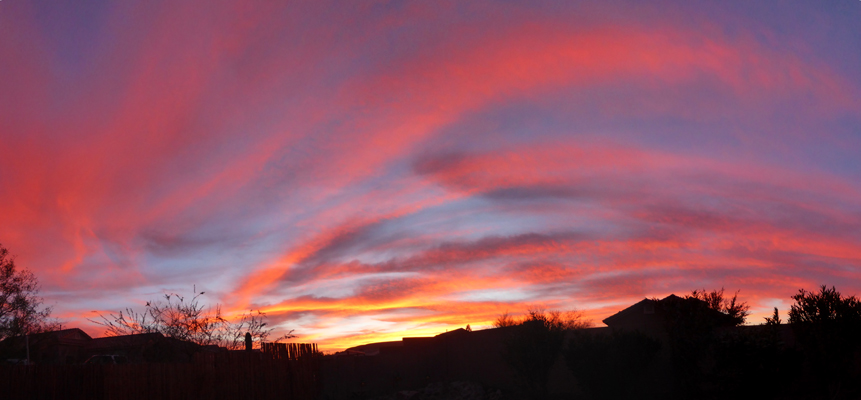 And stage 3 brought the purples out as the color faded from the sky.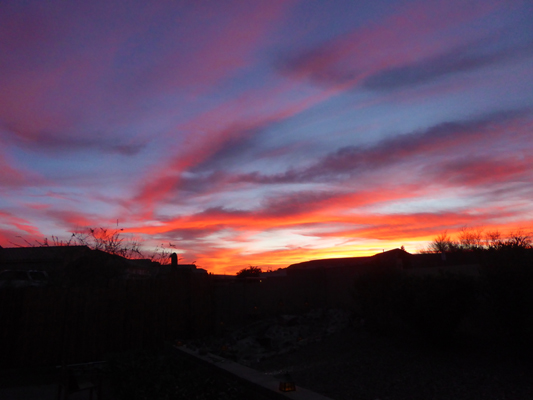 We're pretty much settled into the house (enough so we were fairly presentable for company at least) and we only have a few more little repair projects inside. That means I have begun to tackle the outside. That includes figuring out how the automatic watering system works along with dealing with the pond and figuring out the identity (and the needs) of the plants we've inherited. I've also been working on getting all the outdoor lighting (the place came with lots of solar landscaping lighting) working. My latest project is drawing up site plans for the front and back yards so I can submit requests to Ranch Resort's Architectural Review Committee to move some of the lighting (and remove the dog fence we don't need). And yes, I've begun to think about adding a few plants here and there too—of course. That has involved many happy hours on line reading about xeriscaping, cacti, agave and aloes since I'd like to make sure that anything I plant needs as little water as possible.
We're both doing well. We've managed to wade our way through getting our teeth cleaned and having all our medical check ups. Walter has a follow up appointment with the cardiologist on February 14th where we hope they'll have a solution to his PVC's since they haven't found anything wrong with his heart at all (that's super good news).
Life still hasn't settled into much of a rhythm but we are beginning to feel more at home here.